Why do hospices need volunteers?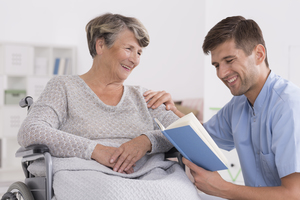 The concept of hospice originated with volunteers. Before hospice programs even existed as government-regulated organizations, people came together to provide respite to the sick and the weary. Today, that spirit of service, which is rooted in a selfless desire to comfort and care for patients, families, and caregivers, continues to live on in hospices - and specifically in hospice volunteer programs. Hospices are required by the federal government to integrate hospice volunteers into administrative and patient services, but more than that, volunteers are truly an integral part of the hospice program.
How can volunteers help with patients?
Volunteers are often able to connect with patients and their loved ones on a personal level. With their insights, this makes them invaluable members of the hospice care team. Patients whose physical, psychosocial, and spiritual needs are being met by other members of the hospice team sometimes still appreciate and benefit from the presence and companionship that a volunteer can provide. Volunteers often read the news, magazines, or books out loud; play music; play board games; look at photo albums; and just chat with patients.
How can volunteers help with family and caregivers?
Caring for terminally ill patients is draining – emotionally, physically, spiritually, and often financially. Like patients, family and caregivers often benefit from the presence of a volunteer. Most families and caregivers appreciate any kind of practical support a volunteer can provide like preparing meals, assisting with light household chores, and walking the dog.
What if I am not comfortable around sick people? Or I can't drive to patients' homes?
Hospice employees are caregivers, too! And we can use all the help we can get! Work is always available in the office to help prepare mailings, assist in general data entry tasks, file papers, prepare admission packets and home charts, and help prepare for community events. With some specialized training, some volunteers can help with auditing files and inventory management for supplies.
Professional and specialized services
Some individuals have specialized skills and/or knowledge like baking, sewing, knitting, massage, aromatherapy, pet therapy, singing, and playing instruments. We absolutely welcome your talents as well!
Also, some educational programs like nursing, massage therapy, and MBA/MHA programs require volunteer hours or a certain amount of experience in the healthcare field. We provide internships on a case-by-case basis.
All hospices are mandated to provide certain professional services to patients and their families, but our volunteer program gives us a chance to shine in our ability to provide creative forms of care, comfort, and assistance to those we serve.
How do I become a hospice volunteer?
The Hospice of San Diego ensures that all care and services are provided safely, securely, and in a professional manner. Our volunteers undergo an interviewing and screening process similar to employees and contractors, which includes a criminal background check, physical exam, and (for direct patient contact volunteers) a tuberculosis screening. After submitting an application and meeting with our Volunteer Coordinator to determine how your interests, skills, and availability would be best put to work, you will be trained according to the role(s) that you will be filling. All volunteers must be trained prior to volunteering. Topics may include but are not limited to the hospice philosophy, maintaining boundaries, and infection control procedures. The amount of training hours and the type of training provided depend on the role(s) that you will be filling. Direct patient contact volunteers must also attend in-service training at the Hospice at least quarterly. We understand that volunteers have their own personal and professional commitments outside of hospice, so we do the best we can to work around your schedule so that you can meet your training requirements.
Other than volunteering, is there any other way to contribute?
The Hospice of San Diego welcomes donations from the community. Our patients benefit greatly from adult bibs/clothing protectors; lap blankets, quilts, and other blankets; hats/beanies; memory bears and pillows; fidget aprons; and non-perishable food items.
Direct patient contact volunteers must be at least 18 years old and have a reliable form of transportation. Administrative and craft (e.g. sewing and knitting) volunteers must be at least 16 years old. We ask that direct patient contact volunteers wait until at least one year after a significant loss so that they can focus on their own personal healing before caring for others.