All services are provided as needed based on initial and ongoing assessments made by the interdisciplinary team.
Registered Nurse Case Managers coordinate care with a team that includes physicians, nurses, hospice aides, social workers, spiritual counselors, and volunteers.
Counselors provide a variety of services including dietary counseling to patients, spiritual support to patients and families, and bereavement services to patients' loved ones.
Hospice Aides and Homemakers provide assistance in activities of daily living (including personal hygiene and grooming, dressing, ambulation, bathing, etc.) and light housekeeping.
Nurses visit patients regularly for medical assistance, medication coordination, instruction, and support.
Physicians provide medical direction to the interdisciplinary team and visit patients as needed.
Social Workers counsel patients, families, and caregivers. They assess and coordinate needs with other community resources and assist with advance directives, financial concerns, and final arrangements.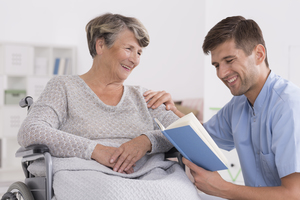 Volunteers can provide fellowship, company, and support for patients and respite for caregivers.
Medication, equipment, and medical supplies, as needed, are provided to manage the pain and other symptoms of the patient.
What services are not covered?
When you consent to hospice services, The Hospice of San Diego manages your care.
Hospice does not provide the following:
Services unrelated to the hospice diagnosis and related conditions
Services for the hospice diagnosis and related conditions that are not called for in the hospice plan of care or not arranged for by the hospice program
Services provided in a facility or by a provider that is not contracted by the Hospice
Board and lodging and/or rent in a facility
Caregiver/sitter
Services from a different hospice provider  Hospice services outside of San Diego County
If you require caregiving services, placement in a facility, and/or financial assistance, the hospice team can assist you with getting what you need.